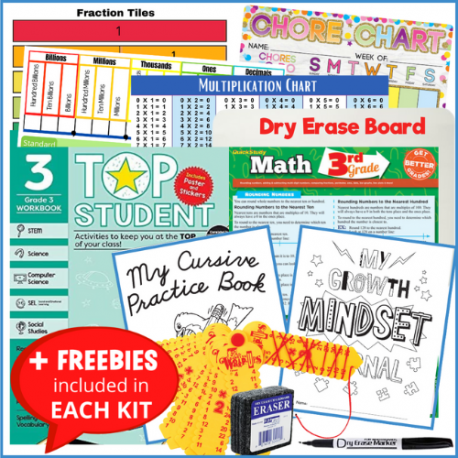  
Skills for Success Kit - 3rd Grade
Whether your child is in the classroom or at home, this teacher approved learning kit will help enhance their academic skills.

This kit is filled with essential, age-appropriate materials that promote Literacy, Math, Science and Critical thinking. Lots of h

ands-on learning and screen-free activities. Everything your child needs to boost their 3rd Grade skills and prepare them for 4th Grade. 
3rd grade Top Student Workbook 
​Challenge your child to improve their skills with fun learning tasks in this Top Student Activity Book. Each of the colorful activities in this workbook will ensure that young learners get the chance to become better readers and writers while also improving their math and science skills.
My Growth Mindset Journal
​
Guide your child toward becoming more flexible, confident learners.
Develops skills in growth mindset and social-emotional learning.
​
Includes a cursive practice page for each letter of the alphabet, a cute illustration to color that begins with that letter, and pages to practice writing simple words that start with each letter.
​
Fun and unique way to help your child memorize their math facts. Students wrap the string from the problem on the left to the answer on the right, and then turn the Wrap-us over to see if they got it right. They utilize many learning senses and are fun enough that students are willing to use them over and over until they master their facts.
​Organize their daily chores, Wipe clean and start a new list, Write-on/wipe-off surface allows writing with dry erase marker
Place Value Dry Erase Chart 
​
Teach the basics of the value of a decimal with this place value dry erase chart. Includes a colorful chart with billions, millions, thousands and ones place values. Great for number representation practice, students can use dry erase markers to fill in the blanks.
​Helps with understanding fractions easier. With these color-coded strips, children can manipulate parts of a whole to see how they relate to each other helping to visualize fractional concepts.
Dry Erase Multiplication Chart 
​
Multiplication Charts are essential tools to learn the multiplication tables! Wonderful resource to help reinforce your child's mutiplication facts.
​
Quick Study 3rd Grade Math Guide 
​
Set your child up for academic success with this 
Quick Study Math 3rd Grade Laminated Guide
! Ready-to-use as an introduction, review, and reference tool. Your kids will be equipped with important STEM math facts to help boost confidence and test scores.
​
Dry Erase Board, Marker and Eraser
​
Freebies include:Liquid Motion Bubbler, Reusable Daily Schedule and Daily Schedule Tip Sheet
No customer reviews for the moment.